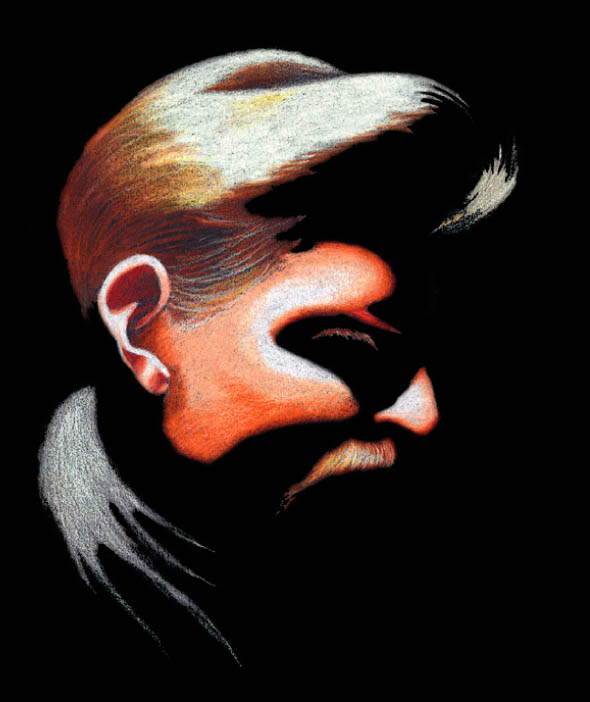 I am a Philadelphia-based graphic artist with seventeen years of professional experience in graphic design, presentation design, illustration, tablet app interface design, and production art.
I have worked for a variety of clients, including the bands The Lovin' Spoonful and Blood Sweat and Tears; corporate clients, such as Barnes and Noble.com and Independence Blue Cross; and non-profit organizations, like The James Joyce Centre in Dublin, Ireland and the Rosenbach Museum and Library in Philadelphia. In addition, my collaborations with fellow artist Robert Berry have been published in two volumes of editor Russ Kick's beautiful three-volume series, The Graphic Canon.
I'm currently Independence Blue Cross's lead presentation designer, supporting the sales and executive teams, and I was a founding partner of Throwaway Horse, LLC, handling the graphic design, web design, iPad user interface design, production art, and hand lettering for the partnership's flagship project, ULYSSES "SEEN". This ambitious comix adaptation of James Joyce's Ulysses by artist Robert Berry, has garnered attention from the likes of the New York Times, TIME, Slate.com, Wired, MacWorld, the New Yorker, Paste Magazine, NPR's All Things Considered, and bassist extraordinare Mike Watt, and is excerpted in the 2013 release of editor Russ Kick's GRAPHIC CANON, Vol. 3. The comic and reader's guide now run regularly on the web site of The James Joyce Centre in Dublin, Ireland.

Other Throwaway Horse projects include the Spring, 2011 release of Martin Rowson's The Waste Land "Seen", an iPad app featuring Martin Rowson's brilliant graphic novel film noir style parody of T.S. Eliot's epic poem with full reader's guide by Mike Barsanti, and the Fall, 2011 iPad release of Age of Bronze "Seen". The latter pairs Eric Shanower's meticulously-researched, beautifully drawn, Eisner-Award-winning graphic novelization of the story of the Trojan War with reader's guide notes by Yale University's Thomas Beasley.